DFW Real Estate Continues to Thrive in Spite of News Headlines
DFW Real Estate Continues to Thrive in Spite of News Headlines
Have you ever known the inside details of a story in the news and realized that the media just flat out mis-represented the true facts as you knew them? This is how I see our DFW housing market. I'm having conversations every day now with folks who ask me if I think our market is in a downturn because they've seen an article or heard a news story about the housing market going into a decline. My answer to them is a resounding NO! This market (our market) is alive and well!
If you pay attention to many of the news headlines, it's understandable why you might think our housing market is sinking. Quips like "Fed plans to reset the housing market" and "Redfin chief economist says housing correction has begun" would make anyone think we are in for a tough ride. The truth is quite the opposite, at least as things stand today. Look at the following sales price figure: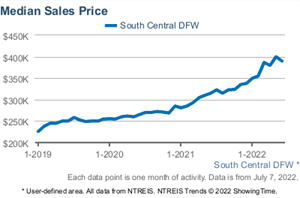 Year over year, median prices are still way up! They are up 23.8% in our southern DFW area to be exact. I have been saying for many months that we are likely to see price increases slow, and that is really all that is starting to happen. Let me say it again: Slowing price appreciation does NOT mean falling prices! It just means prices are not going to continue going up at the same rate they have been going up for the last few years.
If I am wrong and the market does decline, it will be because of a much larger systemic problem in our economy. To reiterate what I stated last month, 5000+ people continue to migrate to DFW every month. Demand for housing is not going to decline with that kind of influx. Our real estate market is very healthy and will most likely continue to be so for the foreseeable future.
What does this mean for you? Honestly, the current state of the market should not change your existing plans much. If you were already considering buying, the sooner you do so, the better the price you will most likely get. And, if you have been planning on selling, it is still a seller's market. We are still seeing multiple offers on many properties. Are we seeing some sales going for less than list price? Absolutely. If you are a seller, you might have to price it a little lower than you "think" you should, but you are still selling it for much higher than you would have a year ago.
So, what are the signs that price increases may soften? The biggest one I will point out is the months supply, which now stands at 1.8 in the southern DFW metro area.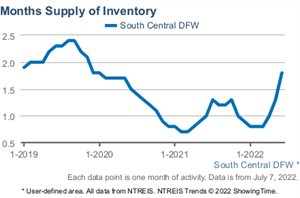 This is the highest is has been since late 2019, and it is a sign that demand has weakened just a bit. Again, weakening demand does NOT mean market decline, it just means prices are not going to continue to rise at the steep rate they have been. It means that buyers are now going to have a little more leverage than they have had in the last couple of years.
The other thing I will point out is that closed sales are down 9.3% year over year. The fact that months supply is up and closed sales are down shows that demand has softened. However, I will remind you that economists tell us that a months supply of 6.0 is considered a balanced market (in other words, a market where supply and demand are pretty much equal). As you can see, we are still a LONG way from being at 6.0 for months supply, and consequently we are still very much in a seller's market, which means prices will still continue to rise.
In summary, we continue to be in a seller's market, but prices are not increasing quite as rapidly as they had been earlier this year. And, it is highly unlikely that our housing market in DFW will experience a decline in the foreseeable future.